FutoStash - XL G2 stashes are designed to store two vaporizer.  Our double Garage design fits 2 XL or regular sized DynaVap vaporizers.  Fits all DynaVap models. Each Garage is fit with a removable spring.
Dimensions:
5" tall
2" wide
0.8" thick
Customer Reviews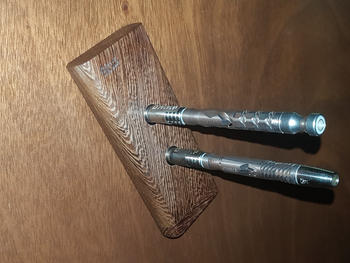 11/17/2021
I recommend this product
Will buy more!
I purchased the G2 XL stash to clear up some space in my storage case. Was not expecting an included tool as it was not shown in picture or description. Very pleased overall. Will have a Galaxy Burl G2 XL when I can decide which one I love most.
Anonymous

Canada
02/24/2022
Great purchase
Great place to carry my Omni V1 and Tidra VonG. I would definitely recommend these well made products!
J A.

United States
01/06/2021
This review has no content.
This review has no content.